LOVOO is one of the more popular hookup apps, though it's obviously not as widely-used as Tinder, for instance. It's still one of the most-installed in the world, albeit it's probably a lot more regional than its counterparts. Whereas Tinder, Badoo and other top apps are equally well-known in many parts of the globe, LOVOO is very popular in certain countries, and less so in others.
The first thing you'll see, for example, as you search for it — it's especially loved amongst the German-speaking users. It's easy to explain – the app was invented for Germans and, seemingly, was an exclusively German app for some time. But don't worry – it doesn't reduce your chances in the countries apart from Austria, Germany, and Switzerland.
There have been over 50 million downloads of LOVOO worldwide (and it's only in Google Play), there is bound to be someone wherever you'll try to get a hookup tonight.
How does it work
It seems that an overwhelming majority of hookup apps today operate in a very similar way. It's not exactly fair to blame anyone for it, especially since it's unclear who got the idea of looking for people in the geographic vicinity, but it still doesn't make the experience any better.
Even more so, since a lot of them do not only share a similar modus operandi, they also share the issues and the rough edges. When it comes to reviewing one of these hookup apps, it's not as much about seeing if it's comfortable or if the pros outweigh the cons.
It's about seeing if the original design and ideas of an app can make the default uncomfortable experience at least satisfactory.
LOVOO's features
Certainly, LOVOO has its own features, but, in its core, it's still almost completely like Tinder:
— You get to swipe the potential matches around you (give them the like if you're interested, or the cross — if not);
— You get to see who's around you in some radius;
— You get to talk to every one of them, but only for pay
As just mentioned, it is impossible to make contact unless you buy a special 'boost'. All the big dating apps have this feature, so if you don't think it's a fair bargain, then you need to fight an alternative way to hookup people.
The 'radar' page
As soon as you create an account for this app (alternatively, you can also log in through Facebook or Google), you'll finally get to use whatever parts of LOVOO the developers bothered to let you interact with without paying.
The left-most section of the app contains all the matches in your area with their names, profile photos, and the distance they are away from you. Generally, it's the list of people closest to you. Very convenient if you don't feel like swiping and want to know your closest potential partners right away.
Here, through the slider icon at the top right corner, you can set the gender and the age of the people you'll want to see. Not the distance, however. You don't need it here, the app knows where you are and it will only give you the people in immediate proximity. That's why it's called 'radar'. Well, that and the other reason.
The radar itself
One of the notable original features that define the LOVOO is its radar. You can't miss it, it's a big blue and round icon on that same page. Once you've clicked it, you'll see the feature itself – a round revolving field with the lesser circles on it. They are people, whom you've seen on the previous page.
The general use of it is simple — you can click on these circles and see whom they represent. Based on their location, you can figure out where they live, if it's any help to you. If it is, then consider it an additional help in your search. However, bear in mind that you can't use it properly unless you pay up.
Frankly, you'll likely not use it when you've paid your fee. The sad part is, you can't buy the features separately, you have to but the whole set. If only you could discard the radar and lower the price.
Streaming
Another strongly demanded feature LOVOO has to offer for its small fee is streaming. You can access the streams around you on the 'live' page right next to the 'radar'. If you'll really want to watch a few, there are several categories for you to pick from:
Trending;
Nearby;
New;
Favorites
It's pretty obvious why people would want to start a stream for people around them — to make a lot of new acquaintances at ones and to show their interests. However, there's no explaining why anyone would want to watch someone streaming from another continent, there are other apps that allow you to do so a lot more comfortably.
The users, too, are at a loss here. It's not a very popular feature — the most 'trending' streams are only 1000-viewers large. Not many people watch them, and not many people stream either. You'll be lucky to catch someone live in your area. These are great to ask people around for a walk, but not for much else.
The radar and the streaming are the only two big features, original to LOVOO. Hopefully, they don't affect the price too much, and the developers didn't create them to be something more than small assistance. 
The main purpose
These two features don't mean much if the main purpose of the app is fulfilled properly. After all, you only download a dating app to get a hookup tonight, not to see who's put up a stream in your city.
If you get to do it without discomfort and restraint, it's alright. But if the developers put more effort into the two abovementioned features, then the app is clearly rubbish. Let's see what it is.
Swiping
You can see your matches in some radius you yourself set up on the 'match' page right in the middle of the bottom interface. Swiping here isn't at all different from what the competitors have to offer. Swipe left to reject a person, swipe right to let them know you're interested. You can also write them right away, but that doesn't work if you hadn't paid yet.
The settings of who you will see are at the top-right corner, the identical slider icon. Here, you get to set the age (from 18 and up to 100), the distance, and the gender (you can go for both if you like).
After that, just go for it, there's not much to it.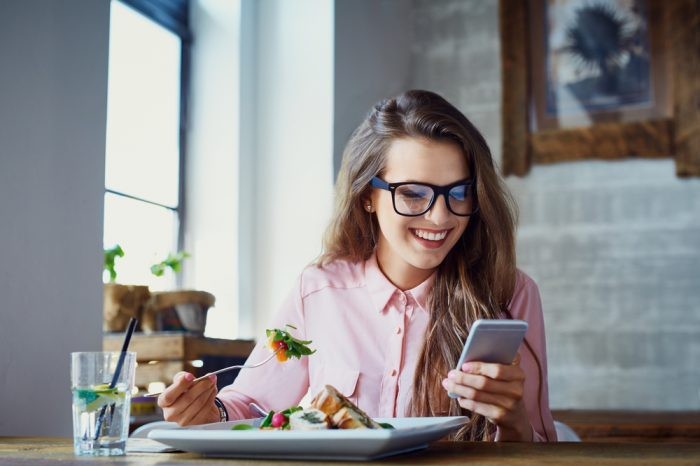 Chats
With the streaming element and other small features, LOVOO not only appears to be an app for those who want a hookup tonight but also a diligent social network of sorts. Many dating adopted such elements before. OkCupid and Badoo, for instance, aren't only good for finding girlfriends, but also for finding friends.
Like in those cases, LOVOO has a fairly developed chatting system. Of course, you can't use it to a full extent unless you've spent given the developers some money. But after that you're clear to write people you've liked and chat with the users you came across on streams.
As long as the stream is live, you get to use the chat to communicate with the like-minded viewers who also decided to join. If you liked someone there, you can continue your conversation outside of it by giving each other likes.
Conversing with people
On such occasions, and also after a person you gave a 'heart' answered likewise, making the conversation a possibility, you get to talk to them. Again, you can't do it properly unless you've bought a status. Either a receiver or a sender should have such a status to start a conversation, there's no other way.
Unless, of course, if you count the slick ways like giving out your contacts in the profile, but people rarely do it for safety reasons.
Safety reasons
These 'safety reasons', actually, are more important than you might think. These do not only imply the routine and standard precautions. There is a real chance of getting scammed by a fake profile, the app is infested with them. This is one of the main reasons for criticism towards LOVOO — it's fairly easy to get scammed of some of your digital belongings here.
The radar can let you guess where the scammer may be hiding, that's virtually its only use. On another note, consider not being naive, it always helps.
How the conversations work
The conversation features aren't anything special, really. Moreover, most dating apps make them in a similar way — a list of your interlocutor changes ranks according to the latest messages, and each time a fresh one appears you get a notification. Surely, you can disable them for each interlocutor, since it's one of the features of most messengers.
What other messengers generally have to offer, LOVOO has also. There aren't many indulgent features that you won't find anywhere else. You can send text, images, videos, gifs, emojis, and this is it. You could say it's a pretty comfortable system.
The only notable issue with it, of course, is inaccessibility towards the new users. You can say it about most features in LOVOO, of course. The precious few things they don't charge money for is swiping and looking.
Such type of monetization is not a decent thing, of course, but even it has its uses. For instance, there are less infantile and inadequate people swiping through possible matches. You can expect that whoever starts a conversation with you will at least be sane. And it is a sizeable advantage.
News
Lastly, there is a 'news' page on the right. It collects all the notifications in one place, even those you decided to disable. Mainly you'll be using it to see who liked you back or who started a conversation with you, but there will be other info for you.
Sometimes the automatic notifier will try to sell you more bonuses, but there will also be useful facts. For instance, if a new user appears near you, you'll get notified fairly quickly.
Again, this section is present in most dating apps in one form or another. The good news about it is that you know where to find news right away — in a 'news' section, of course. It's a small plus, but at least you can say in earnest that LOVOO isn't confusing.
Other apps have a 'profile' section on this site of the interface, and the news folder is somewhere inside, making it hard to access it quickly. Here, it's all on the table.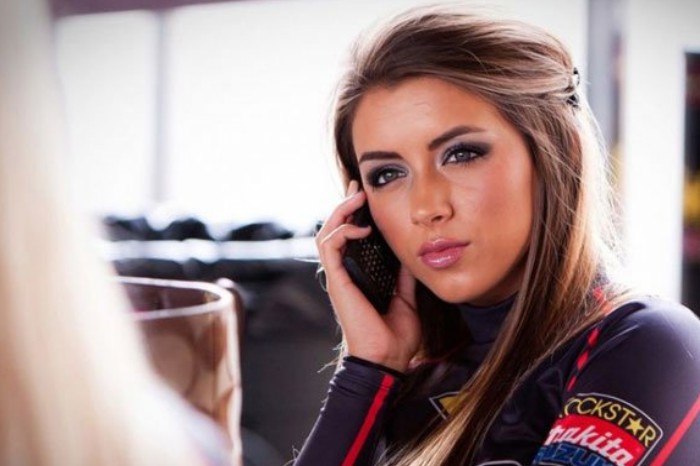 Customizing your profile
Your profile, on the other hand, is accessed by clicking on a person icon in the top left corner of the app. Here, you can change your profile picture for those who'll see you during their swiping or on their radars. Also, you can write a brief description to let people know what kind of person you are.
It's very important, don't gloss over it. Rejecting requires less effort than giving a chance, so you'll need to have a very good profile picture as well as a nice description for those who decided to dig deeper. There is a huge competition in LOVOO. You aren't the only one who wants a hookup tonight in your area, wherever you may be.
The ads
It's bad enough to have to pay for using the app, but having to look at the obnoxious ads all the time is annoying. They appear right above the interface at the bottom of the screen. It's obvious why it's there — so that users could enjoy being sent to another website or to some other app's Google Play page when they miss any of the icons.
It wouldn't be a problem if having it in your app was an accepted practice. But the other hookup apps don't do it. They are fine with the fact that you'll have to pay them to stay, there's no need to bug you any longer. But the LOVOO developers seem to think otherwise.
Summary
The functional elements of LOVOO are decent. It has all the classic parts of a modern dating app: the swiping, the chats, and the profile customization are fine (albeit not very original). However, there are a few elements that don't make sense, they don't belong in the hookup app, and there's no point paying to get access to it.
Of course, if you could do away with the usual elements and not pay for the streams and the radar, it would settle the matter. But you have to, and they seem to affect the price.
In the case of other hookup apps, you get more useful functions and less useless ones for pretty much the same price (all the dating apps have similar prices for market reasons). OkCupid lets you see if the people are compatible with you based on a number of questions the app asks everyone. Badoo allows you to make your profile informative and useful without making it less neat-looking.
In conclusion
LOVOO is a good app. It would even be excellent were it not charging people to look at its radar and live streams it broadcasts to everyone on the planet, and also for finding people, of course. Every other proud hookup app charges people for the same menial things like interacting with people, but they also give you treats like hobbies compatibility. LOVOO doesn't.
Because of this peculiar state of things on the dating market, you can only take having to pay for default, and then sort out if the things you're paying for were worth the fee. However, in case of LOVOO, they don't.
Whether to install LOVOO or no is up to you, however. But if you want to see how its competitors are doing, you can read other articles on this blog, like the one about Tinder. And if you want to know if dating online is worth it at all, try watching this video below: